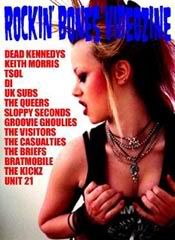 Filmed on location in Texas 2002-2004, this DVD captures a raw, fan's eye view of live performances and candid interviews only Rockin' Bones Video could bring! Featuring Dead Kennedys, TSOL, Keith Morris, UK Subs, The Queers, The Kickz, Groovie Ghoulies, Sloppy Seconds, The Visitors, DI, The Casualties, The Briefs, Bratmobile and Unit 21. Approximately 106 minutes long.

Reviews:
"It's shot like the old Flipside video's and this DVD is a great effort and a fantastic insight into the bands that are around at the moment." -Paul Mileman/UK Subs web master

"If you want to take an inside look at today's punk rock scene, this DVD is for you. You can keep up with classic groups and get in touch with up-and-coming bands." -John Binder, Harder Beat Magazine/Nov 2004

"Destined to become a cult classic!" -Bruno Rossi/The Rock Explosion Webzine
------
$13 shipped
I also accept money orders and well concealed cash payments. If interested in that route of payment reply here or email me at charismasuicide@yahoo.com

Thanks.